Herb Abdank
Research Heraldry Herb Abdank
Herbarz Polski translation
Abdank herb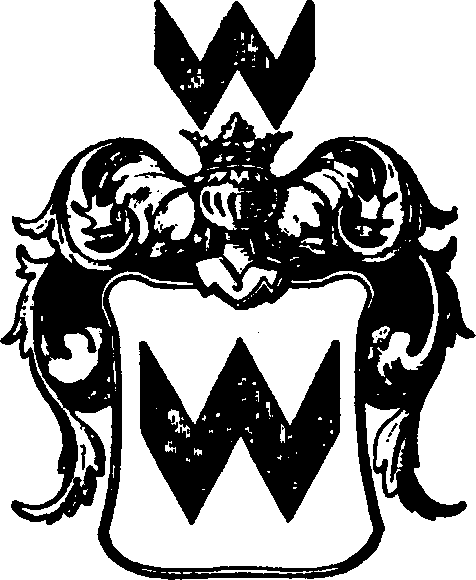 This article is a direct translation from the classic Genealogical and Heraldic reference "Herbarz Polski" by Kasper Niesiecki S.J., Leipzig edition 1839-46.
Paprocki1 describes the crest as having "white roadways in a red field." Others say that the letter "M" is inverted and, in a way, repeated. He who agrees with Cromer2 that "the letter W, common to Poles and all Slovaks, is in a field of red; a crown above the helmet; within the crown, another such letter," will say it best3.
Bielski4, Potocki, and a few others, theorize that this coat of arms originated in the time of Grach, or Krakus, the Polish Monarch, for whom the city of Krakow is named, and to whom the city concedes the roots of its founding. Their theory is based on the story of the Dragon Holophage, also called Boa, that appeared on Wawel Hill on the side overlooking the Wisla River.
It was a virulent beast. Not only did it poison the air with its breathing, but, in forays into nearby streets and suburbs, devoured a number of people and cattle, seldom ever satiated.
A commoner named Skuba, deeply affected by the loss of his neighbors, devised a stratagem by which to confound the monstrous enemy. He stuffed the skin of a calf newly stripped with pitch, sulfur and a torch, and shaped it so skillfully that the beast was doomed before it realized it was tricked. Skuba had flung the prepared "calf" up to the mouth of the cave. In the morning, the famished Dragon emerged, and proceeded in its customary manner to raid, greedily swallowing whole the first thing in its path. The hidden fire ignited fatty tissue and all the frenzied gulping of the waters of the Wisla failed to extinguish the raging blaze within him. The Dragon blew up, exploded in half, and expired.
To this day there exists a cave hollowed out of a cliff in Krakow, called Smocza Jama (Dragon's Lair) which testifies to this event.
Krakus rewarded Skuba for his ingenuity by conferring the letter "W" for his coat of arms. The "W" represents the first letter of the word "Waz" (Serpent), or of "Wawel."
I don't doubt this story except as it relates to Skuba. Cromer, Sarnicki, Długosz and Miechowita5, among other historians, all maintain that such a dragon was destroyed, but not one of them mentions the singular Skuba. On the contrary, it is Krakus who is credited with outwitting the dragon. Długosz adds that the ingenious manner with which he dispatched the beast gained Krakus fame throughout the country and spread it to other nations, where he was honored as "Krakus, Liberator Patriae."
Father Parisiusz, S.J., has a different view of the origin of this crest. He points out that it can be easily learned from various Roman historians that the Romans were inclined to spread their armies along the border of German Sarmatia for winter quarters, or to guard and defend the border. Under such circumstances it followed, and rightly so, that the Sarmatians would guard their border against the Romans. Consequently, every province and voivodeship sent its county standard with large numbers of sentries to encircle the Rhine or Elbe Rivers. Since guards were recruited from our Wisla region to other countries as well, Colonel Skubow, when ordered to set out on such a campaign, marked the flag of his province with the Slavic letter "W", the initial for Wisla. Once there, he performed with such bravery, victoriously routing the Romans, that for these services, he and all his household were honored with this very same letter W.
Father Parisiusz adds further that the city of Wroclaw in Slask, which enjoys this letter in its crest, acquired it from Skuba's descendants. A pretty tale indeed except that no author supports it. I hold with Długosz, who is sustained by Rutka, that the crest was awarded to Skuba, a naturally valiant man, by his lord who saw Skuba vanquish a particularly strong "Alemann" or German. The historian fails to note the date of this victory but it occurred undoubtedly when the Kings of Poland were as yet pagans, because when the Catholic Faith became enthroned in Poland, the bearers of this coat of arms were already seated in the Senate, as you will see below. All historians are certain that his crest was named SKUBOW until 1109, when it was changed to ABDANK for the following reason:
Boleslaw Krzywousty (Wrymouth) delegated Count Jan z Gory (John of the Mountain) to conclude a peace treaty with Emperor Henry. The Emperor proved adamant: peace would come only on condition that the Poles pay tribute for all time. In order to intimidate the Count, the Emperor displayed all of the treasure collected by his predecessors, remarking that it will serve to conquer Poland for him. Neither threats nor all that gold frightened the Count's stoic heart. Instead, cutting short his lordship's fantasies, the Count threw his own signet into the treasure chest with the words: "aurum auro addimus" (gold to gold we add"), as if to say: "In vain do you threaten these men with gold, for their hands are armed with swords, and their hearts, with courage." Henry understood the implication and recognized Jan's contempt for riches, but having to save face, replied in German: "HABDANK," that is, "Thank you." Since then, the Count and his descendants are known as SKARBEK and their coat of arms as ABDANK.6 The Hrodelski Charter of King Jagiello however refers to it as "Habdaniec."7
Crest-bearers of the Coat of Arms:
 HABDANK
Długosz speaks of them as "Erant solertes, et viri Magni."
| | |
| --- | --- |
| Ankwicz | Lewikowski |
| Bardzinski | Lidzbinski |
| Beszewski | Magnuski |
| Bialobrzeski | Malczewski |
| Bialoskorski | Malechowski |
| Bielinski | Mikolajewski |
| Bogucki | Milkowski |
| Borowski | Mlynkowski |
| Borzykowski | Obornicki |
| Borzyminski | Oborski |
| Bram | Pekoslawski |
| Buczacki | Piotraszewski |
| Budziszewski | Przeborowski |
| Bystrzejowski | Przezwicki |
| Chojenski | Psarski |
| Chorynski | Radzanowski |
| Cieklinski | Rajmir |
| Czarkowski | Rogowski |
| Czelatycki | Rogozinski |
| Dabrowski | Roguski |
| Dloto | Rudzki |
| Dunikowski | Skarbek |
| Gastold | Skoraszewski |
| Haraburda | Skuba |
| Jazlowiecki | Slomowski |
| Jugoszewski | Starski |
| Kielczowski | Suchodolski |
| Klonowski | Swoszowski |
| Kolaczkowski | Sczyjenski |
| Konarski | Tworzyanski |
| Kosowski | Warszycki |
| Kowalski | Wazenski |
| Koziatulski | Wojenkowski |
| Kozubski | Wojewodzki |
| Krobanowski | Wolczek |
| Kunicki | Wychowski |
| Leszczynski |   |
Each of the above will be discussed in detail in alphabetical order.
Publ. Note: In time, Niesiecki himself, Kuropatnicki, Wieladek, and other heraldists, added the following families to this coat of arms:
| | |
| --- | --- |
| Bejnart | Machowski |
| Bolenski | Puczniewski |
| Borzymski | Radunski |
| Czahorski  | Razek |
| Dowgialo | Regowski |
| Dowgialowicz | Slomka Skarbek |
| Dworakowski | Starosiedliski |
| Eygird | Starosielski |
| Gambarzewski | Telszewski |
| Gembarzewski | Toczynski |
| Gorski | Trzebinski |
| Hromyka Skarbek | Ustarbowski |
| Kaczycki | Warakowski |
| Kaimir | Wazynski Skarbek |
| Koplewski  | Wielobycki |
| Kruszewski | Wolynski |
| Krzywinski | Wojczynski Skarbek |
| Lasicki | Wykowski |
Six other coats of arms are derived from ABDANK, for this honorable house in our crown multiplied its memorable deeds to such an extent, that the Polish Kings deemed them worthy of ever new adornments. For instance, a half-lion was raised above the helmet, holding in its paws the very same ABDANK, for the MACHOWSKIS, and some say, for the BUCZACKIS and JAZLOWIECKIS as well.
In SYROKOMLA'S coat of arms, a cross was appended to the letter W, and on the Helmet, three ostrich plumes, instead of the Abdank. The ILGOWSKI Abdank acts as a bow from which an arrow is aimed upward through a ring, and there are three ostrich plumes on the helmet.
CHALECKI'S Abdank shows a broken arrow pointed upward, and on the helmet, an arrow pierces the wing of a vulture or an eagle. KROKWA has a rafter (krokwa) joined to the Abdank. Two crosses on one level are on SOLTAN'S Abdank, and a star at the top. Even DEBNO'S coat of arms places the Abdank under its cross.
More will be said about each of these in alphabetical order.
ANCESTORS OF THIS HOUSE 
They added "z Gory" to their signatures. The first member of this house mentioned by Paprocki is Michal z Gory, (that is, Michael of the Mountain). His son, Lambert III, became the tenth Bishop of Krakow. Lambert was a mere canon when he impressed the Krakow Capitula with his affability and proficiency in studies, secular and spiritual. Four years had elapsed since the cathedral chair had been consecrated with the blood of the martyred Bishop Stanislaw, and the orphaned diocese looked forward to a new shepherd. Lambert was deemed capable and elected unanimously. Prince Wladyslaw Herman, the ruler of Poland in the absence of his brother, Boleslaw the Bold, who had mysteriously left Poland following the violent death of Bishop Stanislaw, sent Lambert to Rome to entreat Pope Gregory VII to lift the interdict that had been placed upon the kingdom. The Pope complied, consecrated Lambert a bishop, and returned him to his sheep. Once established in the diocese, Lambert proved a worthy successor to the sainted martyr in the formation of the clergy in their administration of the Sacraments and in leading exemplary lives. Every occasion was met with fervent appeals to honor God. He advised Queen Judyta to address St. Idzik in her barrenness. When she then gave birth to Boleslaw the Wrymouth, the Queen persuaded her husband to grant the county of Kroppen, today's Pabianice, to the cathedral in Krakow.
The pious, fair Swentoslawa's revelation caused Bishop Lambert to have the body of Bishop Stanislaw, ten years after death, transferred from Skalka to the royal castle and entombed in a square stone-block adorned with sheets of gold.
Lambert died in 1101, having served eighteen years as bishop, and is buried in the Krakow Basilica.8 Długosz dates Lambert's consecration a year earlier, in 1082, and year of death as 1101, yet refers to a span of 20 years. He does note that Pope Gregory knew him well since Lambert spent many years at the Papal Court, creditably executing various functions.
Paprocki and Bielski9 include among the progenitors of this house the Hetman and Voivode of Krakow, SKARBIMIERZ. So does Okolski although I don't know on what basis as he follows Cromer10 who states regarding Skarbimierz: "I cannot locate his family." Historians, Długosz,11 Miechowita, Gwagnin, and others, are silent about this house and crest.
Following the banishment of Sieciech from Poland, Skarbimierz accepted command of Krakow, both chair and mace. His first duty was to use the latter with which to flog rebellious Pomerania, in 1106. Having wrested the castle at Bytom with an assault by his cavalry, Skarbimierz returned to Poland, laden with spoils, the enemy beaten and prisoners taken, and most of the land devastated. The Pomeranians, seeking revenge, spread out in ambush, 3,000 strong, while Skarbimierz celebrated a victory banquet with Boleslaw. Forewarned, tho unequally matched, for they had only 100 horses, the King and Hetman struck at the enemy, routing their ranks, and slaughtering great numbers. Skarbimierz barely survived. Weakened as he was from wounds inflicted in the campaign, where he had lost his right eye, he now suffered another thirty wounds. Such "branding" nevertheless appears to be seductive, because Skarbimierz set out a second time on Pomerania, before his wounds were completely healed, and again carried away a bountiful harvest without the slightest resistance.
Soon after, he fought Emperor Henry in Dog's Field. With equal success, he withstood the Pomeranians at Naklo and the Czechs at the Elbe River, fulfilling everywhere his responsibilities as leader, judiciously, and as soldier, courageously. Ironically, fate determined a legacy for the ages inconsistent with his life. Charges of gross ambition and conspiracy with Zbigniew against the King were levied, and evoked the King's suspicion. Skarbimierz was expelled from the Senate, thrown in jail, and having lost both eyes, died in 1117. Here was a man, native-born, of great wit, who wielded tongue and arm with equal power. Yet, since this time, the Krakow Castellan has been raised over the Voivode and takes first place among the laity in the Senate. (I spoke of this in volume I). Later, according to Miechowita, the King regretted wreaking such rage upon Skarbimierz, a warrior of tremendous merit and experience, and sought to atone for his impetuosity with pilgrimages to far away holy places.
Count MICHAL Z GORY, or z Krzywina (per Szczygielski) funded the Lubinski Monastery of the Benedictine Fathers in Great Poland in 1114. He is buried there.12 This information can be found in the original papers of the place. Despite this, Bielski, in 1175, assigns the funding to the Polish Prince, Mieczyslaw the Old.
Count RUSLAW had no progeny and bequeathed his estate to Christ. The SULEJOS built a monastery for the Cistercian Fathers on their inherited estate, overlooking the Pilc River. In time, Kazimierz, Prince of Poland, enriched and furnished it lavishly.13
Count KAGNIMIR from Bieganow, whose fertile progeny lives in the Lukow region to this day (claims Nakielski), annexed his village of Bieganow to the parsonage of Miechowski before 1198. So it is recorded in the catalog of the Patriarch of Jerusalem, but the village has long since broken the covenant. 14
KRZYSZTOF, following in the footsteps of his brother Kagnimir, willed his village of Zytna to the Miechowski parsonage in perpetuity. This gift, too, was soon lost. 15
I have already mentioned the following in volume I: Smil, Castllan Wojnicki, 1217; Skarbimierz Castellan Wojnicki, 1277; Mikolaj Castellan Sendomirski, 1286; Jedrzej Castellan Kaliski, 1360; Jasiek Castellan Gnieznienski, 1361. Their deeds, however, have long since passed into oblivion. Only WOJCIECH CZELEJ, Voivode Sendomirski, is mentioned by Długosz,16 Paprocki, Cromer, and others. He died in battle in 1344, struck by an arrow, eagerly defending his country against the Tartars who had been driven up to the Wisla.
Paprocki lists WSZEBOR, as the Hetman and Voivode Sendomirski, under Wladyslaw, Prince of Poland, but Nakielski draws him to the coat of arms of Nieczuj, where I, too, speak of him. He also places Count DROGOSLAW, whose son Peter, was Bishop of Poznan in 1265 (should have said in 1254), under this coat of arms, but others want him under Prawdzic.
---
1 Paprocki, fol. 158, coats of arms. 
2 Cromer, lib. 5.
3 Okolski, v. 1, fol. 1; Potocki, Poczet Herbow; Bielski.
4 Bielski, fol. 30.
5 Aldrovandus in historia Serpentum et Draconum; Cromer, lib. 5; Sarnicki, lib. 4; Długosz, v. 1, lib. 1.
6 Długosz, lib. 4; Cromer, lib. 5; papr. in Stemmatibus, fol. 159; Sarnicki, lib. 6. 
7 Lasc. Stat., fol. 127.
8 Starow. in Epis. Crac. Paprock. sub Abdank, Miechov.; Długosz, lib. 4; Cromer.
9 Bielski, fol. 95. 
10 Cromer, lib. 5. 
11 Długosz, lib. 4; Miechovita, lib. 3, cap. 10; Gwagnin in descript. Reg. Pol.
12 Długosz: "singularis devotionis et zeli in Deum." Cromer, lib. 5; Paprocki o herbach; Szczygielski in Aquila PolonoBenedict., fol. 122.
13 Cromer, lib. 6. Paprocki, loc. cit. Miechov., lib. 3.
14 Nakiel., in Miech. fol. 103, et 68, et 83, et 85.
15 Idem fol. 83 et 115.
16 Cromer, lib. 12.
Copyright © 1979 Josephine M. Piegzik. Used by permission. This article originally appeared in Polish Genealogical Society Newsletter  (Vol. 1, No. 1, January 1979), the journal of the Polish Genealogical Society (of America).
;