Herb Amadej
Research Heraldry Herb Amadej
Herbarz Polski translation
Amadej herb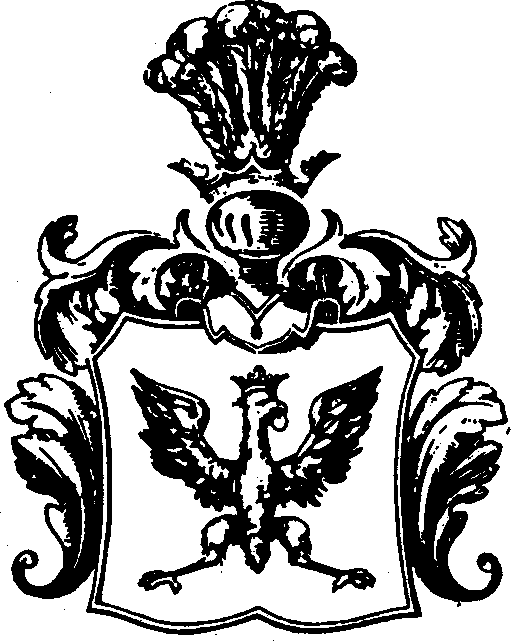 The following article is a direct translation from the classic Genealogical and Heraldic reference "Herbarz Polski" by Kasper Niesiecki S.J., (Lipsk) edition 1839-46.
In a field of red, a white eagle without a tail; its beak, from which a gold ring hangs, faces left; the wings and legs are spread outward. Above the shield, on the helmet are five ostrich plumes. (According to Paprocki, Okolski, Bielski, Potocki.) All agree that this coat of arms came from Hungary, but relate different stories about the time of its arrival.
Quoting Paprocki, Okolski reports that Wladyslaw Lokietek, having been ousted from the Polish throne for his many sojourns in foreign countries, sought help in Hungary where the voivode, AMADEJ, was the first to welcome him and to treat him with respect. Supplied with money and people, the King took over the Pelczyski castle near Wislice. This frightened the other towns into surrendering to the King. The grateful monarch invited the AMADEJ family to Poland where he granted them wealth and honors. This is said to have taken place ca 1300.
On the other hand, Długosz writes that Felicyan and his colleagues were expelled from Hungary in 1330 for they had boldly attempted to murder King Karol, the Queen, and their children. The following members of the AMADEJ family are listed by Nakielski as being in our kingdom: Mikolaj Msurowski, landlord of Rudolowice. There he founded a church, and in 1393 willed to the church, in perpetuity, all of his property in Bystryowice, Woczkowice, Tuliglowy, and Wegierka. This disposition was copied from the original testament. In 1446, Jan from Msurowo, master of the pantry in Przemysl, and his brother, Mikolaj, incorporated this same church into the parsonage at Miechów. Jan's descendants, Jan the peace officer and Mikolaj the swordbearer, both of Przemysl, following the example of their forebears, added more lands in 1454, with the result that today, according to Paprocki, no house remains in our kingdom that boasts these heraldic bearings.
Copyright © 1980 Josephine M. Piegzik. Used by permission. This article originally appeared in Polish Genealogical Society Newsletter  (Vol. 2, No. 2, June 1980), the journal of the Polish Genealogical Society (of America).
;