Herb Ancuta
Research Heraldry Herb Ancuta
Herbarz Polski translation
Ancuta herb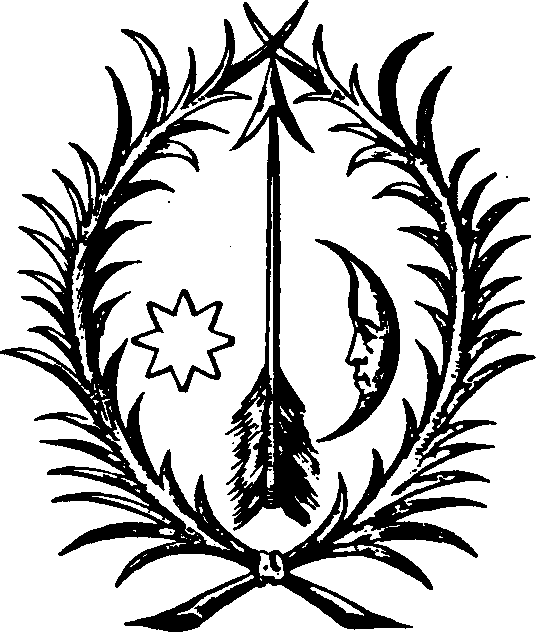 The following article is a direct translation from the classic Genealogical and Heraldic reference "Herbarz Polski" by Kasper Niesiecki S.J., (Lipsk) edition 1839-46.
This one is similar to Newlina's but must have its own name. An arrow points straight up. To the right of it is an eight-pointed star; to the left is a quarter moon with its points facing the arrow. ANCUTA, Maciej Józef. In 1695, he was Canon of Smolensk and Inflanty, the Rector of Wilkomir and Szac, and later, the sufragan and coadjutor of the Bishop of Wilno, Brzostowski. After the bishop's death, August II nominated Ancuta successor. However, before the delegation arrived from Rome, Ancuta bid farewell to the world and its honors. He was Abbot of Czerwin at this time, in 1723.
ANCUTA, Leon. Leon received the Ancuta lands in 1394 from the Lithuanian Prince Witold Kiejstutowicz, for faithful military service. The lands are located in Bielsko County, v. Podlasie, along the Narew River. When the Prince died, his brother, Zygmunt Kiejstutowicz, succeeded to the Principality of Lithuania, and formally confirmed the land grant in 1432, in perpetuity, to all of the family and its descendants, who enjoy ownership to this day. Leon's sons were Michal and Olizar Ancuta. ANCUTA, Radziwon Marcinowicz, married Anna Kosciuszko in 1542 in the home of her father, Konstanty, land judge of Siechowicze. Radziwon signed over much of the Ancuta lands to his wife, especially that which lay along the Narew River.
ANCUTA, Pawel Jeskowicz, whose wife was Maryanna Tumilowna Buchowiecka, purchased additional land in 1580 in Buchowicze, Ostromecz, and further in the voivodship of Brest-Litovsk. His only son, Mikolaj (Pawlowicz), heir to all these lands, was on trial with Epimach Buchowiecki in 1617 in the Lithuanian Supreme Tribunal in regard to workers bought from Lozowicki. He had a son, Alexander.
ANCUTA, Zygmunt, divided his inherited Zahorze with outlying territories between his sons, Stanislaw and Kazimierz, according to a will in 1646. 
ANCUTA, Maciej, the aforementioned Bishop of' Wilno, died of' apoplexy in 1723.
Jerzy, cousin of the Bishop, was a consultant to the Lithuanian Prince, in 1724, and died in Wilno.
Adam Antoni, nephew of the Bishop, and the son of' Mikolaj Ancuta, following several years of service as judge, served twice as deputy and clerk of the court in the tribunal of the Grand Duchy of Lithuania. His wife was Aniela Wolodkiewicz, and their six sons were: Jan, Antoni, Ignacy, Dominik, Michal, and Stanislaw, land judges of Brest-Litovsk.
Copyright © 1980 Josephine M. Piegzik. Used by permission. This article originally appeared in Polish Genealogical Society Newsletter  (Vol. 2, No. 2, June 1980), the journal of the Polish Genealogical Society (of America).
;