Herb Białogłowski
Research Heraldry Herb Bialoglowski
Herbarz Polski translation
Białogłowski herb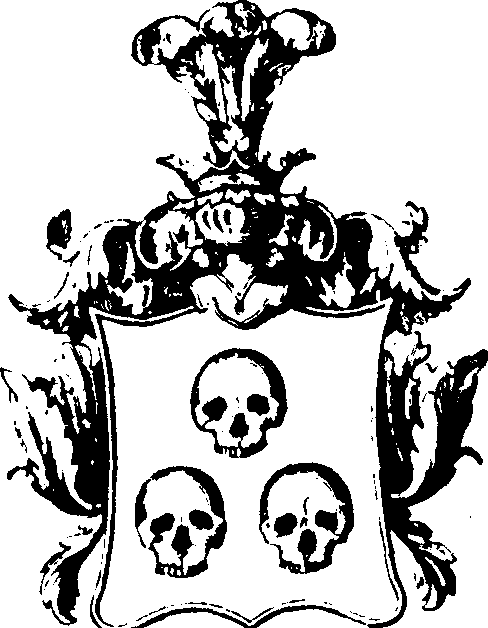 The following article is a direct translation from the classic Genealogical and Heraldic reference "Herbarz Polski" by Kasper Niesiecki S.J., (Lipsk) edition 1839-46.
The three skulls are arranged with two on the bottom and one above between them.  Petrasancta states that three Turkish heads in turbans are in the coat of arms of the family Below in Marchia, but two are arranged above and one on the bottom. Dalmatia also claims a coat of arms with three heads, but each wears a beard and a crown. The Warsaw Chapter has the head of St. John the Baptist on a dish, because the name of its church is "The Beheading of St. John."
Vadingus mentions in 1348, that Ferdynandus Garsya de Platea received five Turkish heads from Emperor Charles and King Philip of Spain in recompense for single handedly killing the Turkish tyrant, Adryan Barbarossa, and four others.
Altho I cannot locate the origins of this coat of arms, I know that a member of the family of Weskop moved from Livonia to Poland in 1600 and received honorary citizenship for military service. He married a wealthy heiress, Kozuchowska. His son, Felicyan, was a captain of the royal cavalry  for twenty years, and married Anna Laskowska. They had two daughters:  Katarzyna, who married Dobrzycki, and Barbara, who married Stefan Misiuna.  Four sons died without heirs: Ignacy, Marcin, Jedrzej, and Franciszek. The fifth son, Jan, married Frances Morska, and their children were Stefan and Anna.
Copyright © 1985 Josephine M. Piegzik. Used by permission. This article originally appeared in Polish Genealogical Society Newsletter (Vol. 7, No. 1, Spring 1985), the journal of the Polish Genealogical Society (of America).
;