Herb Bombek
Research Heraldry Herb Bombek
Herbarz Polski translation
Bombek herb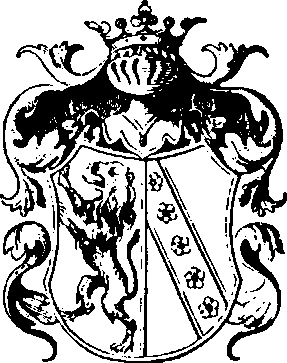 The following article is a direct translation from the classic genealogical and heraldic reference "Herbarz Polski" by Kasper Niesiecki S.J. Lipsk edition 1839-46. Translated by William F, Hoffman.
Neither Paprocki or Okolski wrote of them: their coat of arms as such is a private one. The shield is divided into two parts, on one of which a Lion rears up, two paws raised, and on the other five roses are arranged in a row on a stripe. I have been unable to find anywhere on what occasion these arms were conferred: they currently are flourishing in Sandomierz province. There was a Stanislaw in 1697. One of them married Jerzy Brant. - These arms which I have placed here are from their domestic seal, but MS. o familiach Pruskich asserts that they use the Ramult arms.
(Wieladek writes that he read in the 1764 constitution between suffragan bishops that Jozef Bombek signed his name to the election of King Stanislaw August.)
Copyright © 1987 William F. Hoffman. Used by permission. This article originally appeared in Polish Genealogical Society Newsletter (Vol. XI, No. 1, Spring 1988), the bulletin of the Polish Genealogical Society of America.
;