Herb Bonarowa
Research Heraldry Herb Bonarowa
Herbarz Polski translation
Bonarowa herb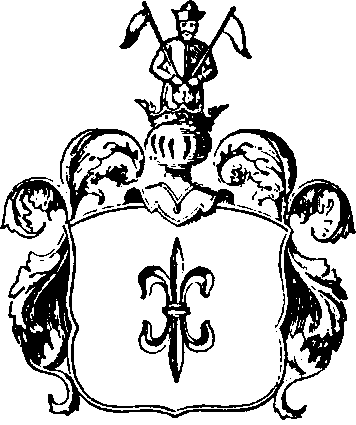 The following article is a direct translation from the classic genealogical and heraldic reference "Herbarz Polski" by Kasper Niesiecki S.J. Lipsk edition 1839-46. Translated by William F, Hoffman.
In this coat of arms there is a lily of the field joined with another so that one points straight up and the other down, both roofed so that they arise from each other, forming, as it were, a single lily: so that half of this combined lily is white in a red field, on the left side of the shield; on the right the other half is black on a white field. On the helm is half a man in armor and with an old fashioned helmet on his head, and he holds two standards in his hands; in his right hand, which is white (for he himself is half black), he holds a black one, and in his left, which is black, he holds a white one. On the helmet he has a lily like that on the shield. Paproc. w Gniazdzie fol. 1213. o herb. fol. 578. Okolski. t. 1 fol. 59. Bielski fol. 507. A rather similar coat of arms is placed in Petrasancta cap. 60. among foreign emblems, from which it is easy to see that it did not originate among us here in Poland but was brought here from elsewhere. Indeed, these arms were acquired in France on this occasion: between King Philip of France and the English a war had been raging, one unfavorable to the French not only because of the loss of many people and cavalry but also because John the Blind, the Czech king who was reinforcing his relative, the king of France, perished. That had happened in 1346 [i.e., The battle of  Crecy, near the start of the Hundred Years' War; what follows must refer to a time nearer the end of the war, a century later- Trans.]  Jan Boner of Wissemberg, whose estates were on the Landa river and who came from the Netherlands, was at that time arranging pay for the French forces; on many occasions he pressed the English, a fortunate Mars, and was first made rotmistrz [captain of the horse] and later also hetman, and he managed his forces in such a way that he soon stood the English on their heads and brought two standards, black and white, as the spoils of his victory, and threw them at the King's feet. For this King Philip bestowed those same banners on him and his descendants, in addition to many significant keepsakes worthy of a knightly hear, and added to them the lily of France in the manner described above.
Whether he came to Poland soon or not, I can not determine. Decius in his history written about Zygmunt I - an author the more reliable because he lived in those days and was a patriot of the Boners - listed under the year 1515 others who had come from W'issenburg to our realm over the last 80 years, especially those who had settled in Kraków, and he says: Evocatus est item a Vissemburgensibus in hoc Regnum vir insignis Joannes Bonerus Landanus, qui primis initiis ex mercatura opibus auctus, et apud Casimirum, Joannem Albertum, et Alexandrum Poloniae Reges in pretio habitus est [Also summoned by the Vissemburgians to this Realm was an eminent man, Jan Boner of Landa, who was originally hired for trade in provisions and was held in high regard by Poland's kings Kazimierz, Jan Albert, and Aleksander]. The same thing was written, following Decyusz (although they called him "Miechowita"), by Bielski and Paprocki. But the latter, in Paprocki o herb. fol. 699, listing several of the more prominent people thriving in the city of Krakow from 1378, includes Mikolaj Bochnar, who presided over the city in 1383 and again in 1396, when he was also inspector of the Krakow salt-works. There is also Lukasz Bochnar in 1403. Then Dryacki, and other writers on the life of Blessed Izajasz Boner, maintain that that holy man was born in 1380; so long before Jan Boner, indeed, even before King Kazimierz Jagiellonowicz, the family of the Boners must have come to us. Perhaps some will say that these men, Mikolaj, Lukasz, and Blessed Izajasz were not of the house of Boner but were Bochnars of Starykon arms; but after all, Dryacki expressly states that he had long since seen on Izajasz's grave this Boner coat of arms serving as a reminder to his countrymen of his relations: and for that purpose I, too, will give a summary of his life.
The Blessed Izajasz Boner, whose father was Floryan Boner and whose mother was Bronislawa z Brzezia Lanckoronska, Zadora arms, Hieronim's daughter, was born in Krakow on Grodzka street in 1380, and was christened Amborzy; when he'd grown up he was handed over for education, in 1395, to the academy that at that time was still in Kazimierz near Krakow, founded by the Polish king Kazimierz the Great. There he soon progressed so that after the academy was moved from Kazimierz to Krakow, he received the baccalaureate and master's degrees, as is shown by the register Artisticae facultatis of 1406, see Dryacki. What is incomprehensible is that he was supposed to have been declared a doctor of theology at the Krakow academy in that year, but according to our historians it was long after that year that the teaching of theology was first permitted at that academy; on this score Clusius says that that degree was conferred not at the academy but at the Augustinian monastery near Krakow, in which all those higher studies were flourishing at the time. He conversed intimately with those fathers and frequented their sermons and conversations; once at St. Katarzyna's Church he listened to a preacher preach earnestly and condemn the world and its vanity, and he took his words to heart and took the habit of the order of Hermits of St. Augustine at the hands of the pious Jan, Swietokrzyski abbot, and chose the name of that monastery's prior, Izajasz, for his new life. He immediately began to train himself in the various virtues and soon became the image of excellence and an example to others. He liked nothing more than to think and talk about the blessed eternity and heavenly praise, and that he found this very much to his taste while still here on earth is attested by what his fellow monks heard, when during prayer they saw Izajasz elevated above the earth and enraptured, accompanied by some extraordinary melody (evidently angelic ) of astonishing joy and harmony, singing particularly the hymn "Ave Regina Caelorum. Mater Regis Angelorum" ("Hail, Queen of Heaven, Mother of King of Angels'" ), and the holy man sang along with it: for he had a special regard for the Blessed Mother, so that most often he was in prayer before her image; which, copied at his expense, God later made famous with many graces, so that many a time during his services there running late into the night, when sleep overcame him he would throw himself to the ground, and it was more a matter of sleep's deceiving him than of his actually going to sleep, because soon he would return once more to his delights with God. His humility was singular: because of it, when his elders reprimanded him for some small and rather innocent defect, he would fall to their feet, kiss them, and beg forgiveness. For this reason while he was still in the Novitiate he considered himself so base that he judged himself unworthy of the order's habit and worthless to the order; and later, when he was already well on in years and highly regarded by all, he gratefully accepted the lowest services and duties with his extraordinary contentment, lovingly serving his fellow monks in their illnesses, visiting the hospital and huts of the poor, comforting the needy, confirming them in better hope in God, and encouraging them to have patience; and since he found he did not have enough time for prayer and reading books, he would give only four hours for sleep, from eight to twelve. He afflicted his body not only with lack of sleep, but also drew blood from cuts with harsh discipline, pressed his body with iron bars, tormented himself with a hair-shirt, and weakened himself with fasts, eating practically nothing on Mondays, Wednesdays and Saturdays, sharing his portion with the nerdy at the monastery's fort. In heavy frosts he walked to church with bare feet; that he might keep the mortification of his body secret before human eyes, he did wear shoes, but with the bottoms cut out. Dressed this way, he visited the graves of St. Stanislaw the Bishop and Blessed Salomea and other Polish patron saints on foot, and his feet, whether cut by stones, by frost, or by other sharp objects, would he splattered with blood. He repaid his enemies' hatred for him with love, falling before them and begging forgiveness for his offenses. He withstood all unpleasantness with an unconquered heart: the tongues of those attacking his teaching and holy actions, the stinging mockeries of his deeds, the criticisms of the envious, the calumnies of the malicious, none of this could shake him from his pious undertakings connected with God. Having ceaselessly exercised himself in these virtues, he was stricken by a fatal disease, during which the Most Blessed Virgin appeared to him with the baby Jesus in her arms, surrounded by St. Stanislaw the Bishop and Jacek and Kazimierz (thus all those who wrote of his life say, although it wasn't until twenty years later that St. Kazimierz passed over to heavenly praise, that is, in 1483, whereas this happened in 1471 - or 1461, according to Dryacki - when St. Kazimierz had barely been born), Jadwiga, Salomea, and Kinga, and she summoned him to heaven, saying ( I include here the words from Rev. Nadasy) Serve mi dilecte paratus jam esto, possidere regnum Dei, ab initio mundi a Deo omnibus Sanctis praeparatum [My dear servant, be now ready to possess the kingdom of God prepared by God from the beginning of the world for all Saints]; and rejoicing at this, Blessed Izajasz ended his life joyfully and in sanctity in 1471, at the age of 90, on 8 February; whatever others may have written, I am following the inscription that was copied from his gravestone, in short, Obiit Venerabilis Pater Isajas Sacrae Theologiae Professor anno 1471 [The Venerable Father Izajasz, professor of holy Theology, died in the year 1471 ]. An image was placed on his grave, and it holds in its hands the sentence: Tempus breve, judicium difficile [Time is short, judgment difficult]. Joined with his life's great sanctity was knowledge in no way inferior: it was evident at the Council of Konstanz, when with ten other doctors of the same order he thoroughly disproved the erros of the Hussites; he did the same thing in Prague. It is also evident to this day in some of his writings: for he wrote four books in Magistrum Sententiarum, in which both the turn of his humor and an uncommon skill stand out. But his Commentaria was destroyed by fire after his death, on Holy Trinity Sunday, 1556, when the Krakow monastery of the Augustine Fathers burned unexpectedly; so was his biography, which one of those who knew him and lived with him had written at length shortly after his death: there are only those that I have cited here, who later wrote about him to praise this blessed man, i.e., Martinus Baronius Clericus anno 1610. Nakielski in Miechovia fol. 265. Fridericus Szembek Soc.J. Philippus Alegambe Soc. J. Bollandus in Actis SS. tomo 2. and 8. Febr. Bzovius in Annal.. tomo 18. num. 34. Pruszcz Forteca Duchowna fol. 144. Augustinus Clusius anno 1610, and finally, Fulgentius Dryacki Ord. S. August. God made famous the piety of his life with great wonders, for while he was yet alive he raised two from the dead, of whom the authors cited mention one: that one time when Blessed Izajasz was praying before the image of the Blessed Mother, the body of one Stanislaw by name, a citizen of Kazimierz, was being brought into that church, accompanied by the great sorrow of his relatives, who bewailed the loss of the deceased; the holy man cried out to the Blessed Mother, Monstra te esse Matrem [ Show that you are the Mother], and he took the corpse's hand and raised him and handed him over, alive. You will find the other one in the life of Blessed Stanislaw Kazimirczyk. I read of as many raised by his merit after his death. In addition some to this day still regain their sight, others their health after malignant fevers, and yet others different graces at this man's grave, as is attested by the votive Masses in thanks for these blessings, to which I refer writers on his life. His body was raised from the earth with the consent of Pope Urban VIII in 1633 by commissioners appointed for the task by the bishop of Krakow and awaits further honors and respects from the apostolic See, and more than a few have beheld in wonder an extraordinary brightness at his grave.
Jan Boner came from Helvetia and stayed in Krakow for a time, then brought his brothers Jakob, Fryderyk, and Jedrzej after him; having soon acquired hereditary estates in Krakow district, especially at Ogrodzieniec and elsewhere, from Wlodek, Bochnia cupbearer, (Dryacki) he gained even more favor with his services to Zygmunt I and was made by him burgrave and inspector of the Krakow salt-works. His lord's regard brought much envy upon him, but Boner's intelligence remained wholly unaffected by this and he paid off all the royal estates, loaded as they were with large debts, out of his own pocket. Thus he redeemed bronze [spiz; or could this mean Spisz?] for 12,000 red zlotys from Jordan z Zakliczyna; Oswiecim and Ruskie salt-works for 14,000 red zlotys from Pawel czarny, a citizen of Krakow; and Nieszawa for 10,000 from Stanislaw Koscielecki. He released the stroz rybitwa, mills and butchers' stalls and other incomes settled on Krakow's governor for 12,000; the Olkusz olbora, i.e., the ore tithe, for 5,000 from Seweryn Betman; and he released from various hands. Sieradz for 5,000; Gostynin for 2,300 zlotys; Radom for 3,000; Sochaczow for 7,000; Piotrkow for 1,200; Drohobycz for 5,000; Rabsztyn for 1,500; Rytter castle for 1,000; the Lublin customs-duty for 1,400; Czluchow for 4,000; Tuchola for 11,000; Sadecz for 4,000; Inowroclaw for 5,000; and Torun bridge-tolls and customs-duty for 10,000. He paid all services for the entire royal court, unpaid for many years, for which he spent some 200,000 zlotys. In addition he redid at great cost Krakow castle, which was almost in ruins, especially the west side, and later all the walls. Bielski  fol. 507. Pastor. in Floro Polon. Cromer.
The works of these Boners are remembered to this day, for they restored the Bochnia and Wieliczka salt mines to good condition, at no small expense to themselves, and from their name to this day comes the name szyba Bonerowska. They also undertook the adornment of a number of churches; thus the altar of St. Stanislaw na Skalce stands wholly gilded at their expense, as is evident from the arms placed on it in commemoration. But later, as the descendants of this house rose to greater and greater honors and wealth, they abandoned the true faith and were infected by the Lutheran heresy, in which they died, and so the whole family declined.
The information given by Blessed Izajasz Boner's biographer, that the Nowina or Zlotogolenczyk arms were granted to Mikolaj Boner at the Hrodelski sejm (Dryacki in Vita B. Boner), should not be ascribed to these Boners in any case, for the reason mentioned above.
Copyright © 1987,1988 William F. Hoffman. Used by permission.
This article originally appeared in Polish Genealogical Society Newsletter (Vol. XI, No. 1, Spring 1988; Vol. XI, No. 2, Fall 1988), the bulletin of the Polish Genealogical Society (of America).
;