Herb Drogoslaw
Research Heraldry Herb Drogoslaw
Herbarz Polski translation
Drogoslaw herb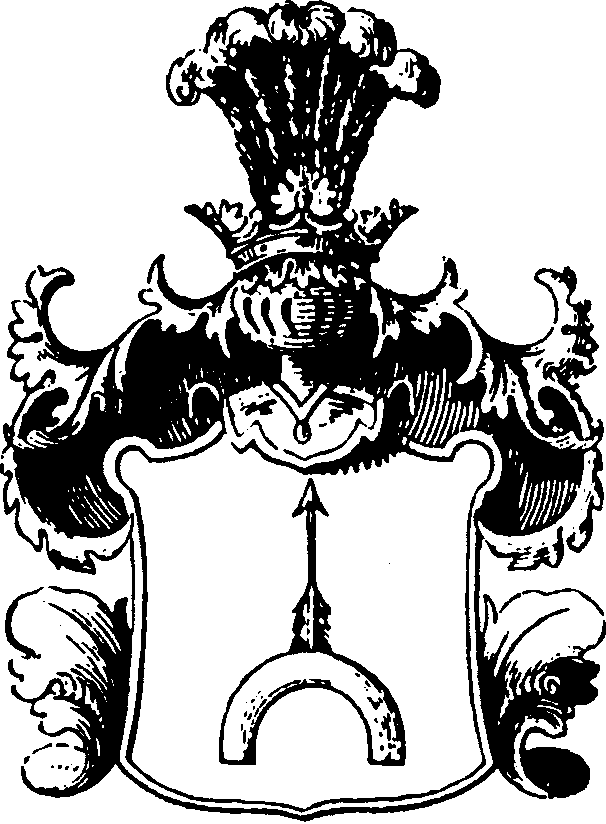 For each herb [clan shield, coat of arms] the blazon or verbal description of the arms is first given in authentic heraldic style, followed by a translation from the Polish description by Niesiecki. The right and left sides of a shield are identified from the standpoint of the bearer, i. e., the one holding the shield. His right would be your left and vice versa. The tinctures (colors) in heraldry are as follows: azure = blue, gules = red; sable = black; or = gold, argent = silver; vert = green. In heraldry all charges (pictures) on a shield are assumed to be facing dexter (right side) unless otherwise specified. In Polish heraldry all animals or birds are assumed to be in their natural coloring unless otherwise specified.
Arms: Gules, upon a demi annulet an arrow in pale, point to chief both Argent. Out of a crest coronet, a panache of five ostrich plumes proper.
This shield is very similar to that of Ogonczyk, The field is red, and there is a half or demi ring of white (silver), although Paprocki, in his work O herbach [On Clan shields], could not really resolve the dilemma as to whether this was a half of a ring, or a crescent moon, or just a half circle. Upon it is seen an arrow, point upward. Some families have the field of this shield blue in color, with five ostrich plumes on the helmet, while others have only three ostrich plumes. Some, such as the author Kojalowicz in his manuscript, describe it as an arm in armor with a sword issuing from a wall. See Bielski, pages 217 and 584; Paprocki in Gniazdo cnoty [Cradle of virtue] on page 1,116, and in O herbach [Of Clan shields] on page 587; Okolski, volume 1, page 175. The arrow on this shield is supposed to be vertical, with the arrowhead pointing to the top of the shield.
All authors agree that this shield was brought to Poland from Silesia. In his manuscript Fr. Rutka adds that this took place in the year 1333, during the reign of King Kazimierz the Great. Okolski surmises that the occasion on which these arms were granted to an ancestor of the house was as follows: the enemy had encircled the army and enclosed it in a ring, when this ancestor, gathering his courage, used his sword to open a path and broke through the circle. A Drogoslaw is the first we know of with these arms, and they took their name from him.
Families with these Arms
| | |
| --- | --- |
| Bartoszewski | Rdultowski |
| Bukowiecki | Srzemski |
| Czaplinski | Tolwinski  |
| Dabrowski | Truszkowie |
| Gorzycki | Wieckowski |
| Herstopski |   |
I did not write of the Bartoszewskis in volume one, as no other authors made mention of them as using this clan shield, except for Kojalowicz in his manuscript. On the tombstone of Stanislaw Czieniowski I saw this clan sign in first position, with Ostoja second and Roza third.
[Editor: According to the illustrations found in Chrzanski's work Tablice Odmian Herbowich (List of Clan Variants), under the surname "Buchowiecki " the variation of this clan shield is displayed as a Gold crescent moon reversed, on which stands a vertical arrow, but no crest is displayed. This is one of only five different variations of this clan shield.]
Copyright © 2000 Leonard J. Suligowski. Used by permission. This article originally appeared in White Eagle (Fall/Winter 2000), the journal of the Polish Nobility Association Foundation.
;