Herb Junosza
Research Heraldry Herb Junosza
Herbarz Polski translation
Junosza herb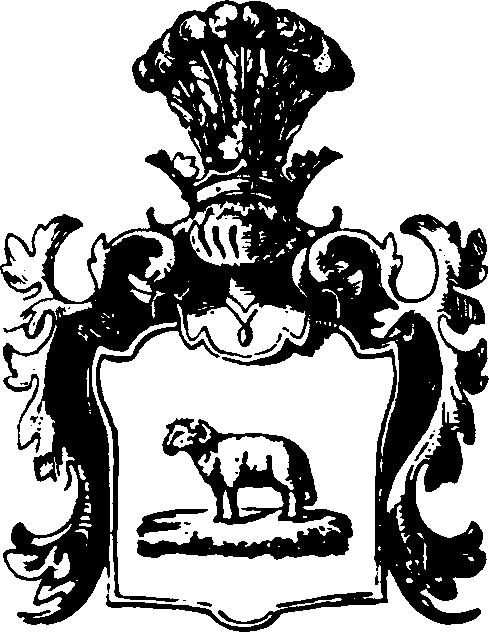 For each herb [clan shield, coat of arms] the blazon or verbal description of the arms is first given in authentic heraldic style, followed by a translation from the Polish description by Niesiecki. The right and left sides of a shield are identified from the standpoint of the bearer, i. e., the one holding the shield. His right would be your left and vice versa. The tinctures (colors) in heraldry are as follows: azure = blue, gules = red; sable = black; or = gold, argent = silver; vert = green. In heraldry all charges (pictures) on a shield are assumed to be facing dexter (right side) unless otherwise specified. In Polish heraldry all animals or birds are assumed to be in their natural coloring unless otherwise specified.
Arms: Gules, on a mound vert, a ram argent, stained with blood from the sinister flank. Whereupon is set for a crest: out of a ducal coronet, five ostrich plumes proper.
A white ram in a red field, facing the right side, standing on a green patch of turf, with blood stains on its side and horns on its head; on the helmet are five ostrich plumes, see Okolski tom. 1 fol. 354 and Rutka in MS. But Paprocki o herbach fol. 248 and Kojalowicz in MS. and MS. drugi o familiach Pruskich have half a ram emerging, so that only the forelegs show, on the crown crest. There are a great many variations of these arms. Some use in their arms a ram with a small banner, and from the ram's side blood flows into a chalice. I placed these arms in volume one, for Wielun district uses these arms in its seal: similar arms are to be seen in Paprocki fol. 564, where, of the Teutonic Knights' banners collected after the victory at Grunwald, he writes that the 31st banner was that of the post of commander of the city of Sluchowo, which was held by Arnold de Beden, under whom were the szlachta of this county. Another one, the 46th in the series, was of the see of Alspersg and of the city of Alsperg, which had a similar ram on it. Yet others have the ram without horns, some in a rose bush, some with the ram looking toward the rear.
Some find the origins of these arms as coming from Germany, saying that they were brought to Poland from there, and there is a certain similarity that seems to confirm their idea, for in German Jungszchoff means "young ram," and they say the Polish accent may have changed this word so that they were called Junosza or Junoszyc. Others say the arms were born in Poland, as Paprocki says, from Długosz, under these circumstances. A Polish knight riding in a small retinue to go fetch his wife came upon an enemy outpost, which he succeeded in defeating, and then from the prisoners he had taken he learned about the whole army and attacked and defeated them by taking their horses while they were scattered about grazing. The friends of this Junosza knight had come to an agreement, and as soon as they saw him returning the next day, stained with the foe's blood, they reported his courage to the King, for which these arms were conferred upon him. Others add that when the Junosza knight left, a ram came out after him; seeing the ram crying out and jumping around, they took this as an omen that they had taken the path of good fortune: and in commemoration of this he asked for this emblem.
He would speak best who said that this emblem is ancient: supposedly it came to Poland along with Lech, inasmuch as the ancient holy patriarchs use this sign, witness Flavius Josephus in Antiquit.; and here in Poland Baszko Poznan kustosz, ancient historian of Poland, mentions in 1253 a count Baran [baran means "ram" or sometimes "sheep" - Translator's note] for having taken his nets on the river Warta, for which Baszko filed a suit against him. Miechowita praises Domin of Baran arms, court hetman, with these words: Petrus Domin de domo Agnorum, regil exercitus Capitaneus, simili et majori fortuna usus, prope oppidum Pucko, exercitum Pruthenicum conflixit. [Peter Domin of the house of Agni (literally "lambs"), head of the king's army, possessed of similar and greater fortune, clashed with the army of the Teutonic Knights near the town of Puck]. But this was Dunin, not Domin, of the house of Cygni [in Polish Labedz, "swan"], not Agni [Baran, "ram" or "lamb"], for that is how all other historians write about Dunin. Mikolaj Scibor Szarley was Inowroclaw voivode in 1457.
Families Using These Arms
Bielinski, Bojanowski, Borkowski, Borowski, Borukowski, Chadzenski, Chociszewski, Chrapunski, Cieslinski, Dabrowski, Dolecki, Dorpowski, Drewnowski, Druzbic, Dubkowski, Galecki, Giganski, Gliniecki, Goslinowski, Gostkowski, Grochowski, Gulczewski, Gzowski, Hermanowski, Horyszewski, Humiecki, Jankowski, Junosic, Kamieniewski, Karnkowski, Kiernoski, Kijowski, Kisielewski, Klinski, Kolo, Koninski, Konopacki, Kormanicki, Kosmaczewski, Kowalewski, Krosnowski, Krzykowski, Kuszkowski, Lelowski, Lipicki, Lempicki, Lochocki, Lugowski, Malicki, Mieszkowski, Odnodzki, Ojrzanowski, Omiecinski, Oparski, Orlowski, Osinski, Piaskowski, Pijanowski, Piotrowski, Podoski, Polikowski, Poniatowski, Przedzowski, Przerownicki, Radziejowski, Rosciszewski, Saporowski, Segrowski, Sep, Skoroszewski, Sluszkowski, Smogorzewski, Starzynski, Stepkowski, Suchodolski, Szaniawski, Szetynski, Trojan, Ubniewski, Wielicki, Wolski, Wojslawski, Wscislicki, Zaliwski, Zaluski, Zawadzki, Zawlocki, Zukowski
[Addition to the text by the 19th century editor, J. N. Bobrowicz:] Kuropatnicki, Malachowski, Zaluski's Manuskrypt ref. koron. and other later heraldists add the following families to these arms:
Badzynski, Baranowicz, Chadzewski, Chodecki, Chudzewski, Domin, Janicz, Janiszewski, Kisielinski, Komarnicki, Koniuski, Kostkowski, Kurdwanowski, Lipnicki, Nijowski, Orwitowski, Ostrzakowski, Oswiecinski, Pieskowski, Podolski, Przedojowski, Rahanski, Runowski, Rzenski, Rzeszotarski, Sergowski, Sliwinski, Stefanowski, Stoinski, Szarlenski, Szarzynski, Tabacz, Zakowski, Zamojski, Zdrojewski
A translation from Niesiecki's Herbarz Polski, Vol. IV, pg. 511/12
Copyright © 1994 Leonard J. Suligowski. Used by permission. This article originally appeared in Rodziny  (November 1994), the journal of the Polish Genealogical Society of America.
;