Herb Polkozic
Research Heraldry Herb Polkozic
Herbarz Polski translation
Półkozic herb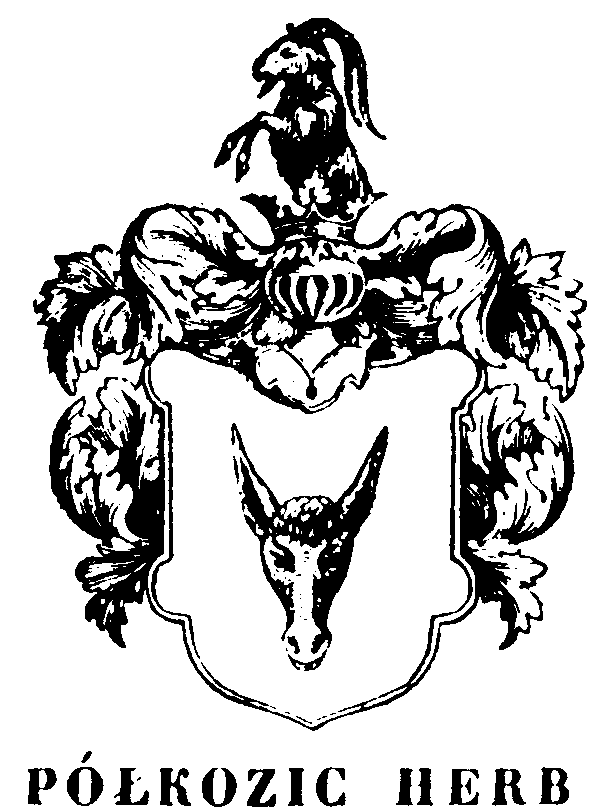 The following was prepared from the classic heraldic reference Herbarz Polski (by Kasper Niesiecki, S. J., Lipsk [Leipzig] edition, 1839-1846) by Leonard J. Suligowski, 218A North Henry, Brooklyn, NY 11222-3608. For each coat of arms the blazon or verbal description of the arms below is first given in the authentic heraldic style, followed by a translation from the Polish description by Niesiecki. The right and left sides ofa shield are identified from the standpoint of the bearer, i. e., the one holding the shield. His right would be your left and vice versa. The tinctures (colors) in heraldry are as follows: azure = blue; gules = red; sable = black; or = gold: argent = silver; vert = green. In heraldry all charges (pictures) on a shield are assumed to be facing dexter (right side) unless otherwise specified. In Polish heraldry all animals or birds are assumed to be in their natural coloring unless otherwise specified.
Arms: Gules, an Ass's head caboshed affronte proper. For a crest: out of a crest coronet a demi goat rampant to dexter proper.
On a shield of red is the head of an ass, in its natural color (grey). For a crest: out of gold crown, a half goat with forelegs raised, in its natural color (grey) and facing to the right, with horns back over its spine. [Półkozic comes from pół, "half," and koza, "goat"].
That is how these arms are described by Paprocki in Gniazdo cnoty [Nest of Virtue], pages 72, 108, and 1172, and in O herbach [On clan shields], page 185; also by Okolski, Volume 2, page 473, and Bielski, page 77.
All authors who have written on the con-ferment of these arms agree as to their origin. There was once a Polish knight named Stawisz who was besieged by pagans at a castle called Eczech. For a long time he defended himself valiantly, aided greatly by the castle's strong fortifications. The foe could neither break through the walls by storming them, nor weaken the defenders' hearts with promises of riches. Finally the enemy resolved to torment the besieged with hunger, and thus compel them to surrender.
The besieged defenders endured their deprivation for some time, and finally Stawisz devised a ruse to fool the foe. He had an ass and a goat slaughtered and their blood smeared over oxen hides, which he had hung from the castle's walls. He also had pieces of their meat flung into the pagans' camp. When the pagan leader saw that they still had so much food left that he could not hope to starve them out, and he could not overcome their forces in fighting, he retreated from the castle in shame.
The lord of the castle hailed the courage of this knight, and among other favors, allowed him the privilege of displaying the the ass's head and half a goat on his coat of arms. According to Okolski, this happened in the year 1022. Having received these honors, Stawisz returned to his homeland, where he had worthy offspring; in Gniazdo cnoty Paprocki mentions that his son Bogusz was alive as of the year 1044.
Forbears Of This House
Some styled themselves as coming from Ziemblice. Among them were two brothers, Stawisz and Bogusz, whom Lambert, the Bishop of Kraków, made canons of Kraków in 1061. Others were from Lakoszyn, including Jan, the castellan of Łęczyca in 1413, as he signed his name to the charter of Horodlo (according to Laski in Statut, page 127). Others were from Bogumiłowice, such as Michał of Bogumiłowice, castellan of Sandomierz (Laski, Statut, page 127) in that same year, and Pawel of Bogumiłowice, Kraków district judge in 1436 (Laski, page 140; ibid., page 127). There was also Jan, castellan of Czechów; Jakob, voivode of Sandomierz in 1222; Mestwin, castellan of Sandomierz the same year; and Urban, castellan of Łęczyca, in 1248; who are mentioned in volume 1.
Others styled themselves as coming from Wilczyce. King Kazimierz the Great mentioned Marcin from Wilczyce in a 1335 letter, praising his accomplishments. Nakielski noted in Miechowja, page 69, that circa 1200 a Count Jakób gave the village of Karcze to the monastery in Miechów; it is unclear how the monastery later came to lose ownership of this village.
Others were from Chmielów. They included Michał, Kraków district judge in the year 1410. It was he that erected the parish church in Popkowiki, for the support of which he asked Wiss, Bishop of Kraków, for tithes, according to Starowolski in Vitae Episcoporum Cracoviensium [Lives of the Bishops of Kraków].
Others were from Przemąków [now called Przemyków]. Among them a count Jazden is mentioned in a letter from the Holy Cross Monastery at Łysa Góra in 1200. His son, Pawel, became the Bishop of Kraków, after having been a canon of Kraków and chancellor to Prince Bolesław Wstydliwy. He was elevated to the position of Bishop of Kraków by Jan, the Archbishop of Gniezno, in 1266, and was consecrated during Lent, at which there was such rejoicing in the community that even during such a holy season they did not refrain from dancing. He ran into many difficulties with Leszek the Black, prince of Sieradz, whose courtiers Otton and Zegota, of the Topor coat of arms, seized the Bishop and held him captive under heavy guard at Sieradz for a whole month. All of this was at the order of Prince Bolesław Wstydliwy, or at least with his dissimulation. It turned out well for him, however. When Jan, the Archbishop of Gniezno, took up his cause and put the entire diocese of Gniezno under interdict, Prince Leszek had to make handsome amends and confiscate the estates of his henchmen, Otton and Zegota. Nonetheless, Leszek once again captured the Bishop and put him in the dungeons of Sieradz. The Bishop was imprisoned yet a third time, by Prince Henryk of Legnica. Anyone who would like more information about this should refer to Starowolski's Vitae Episcoporum Cracoviensium. He endowed three altars in the Kraków castle: the altar of Saint Wojciech, Saint Margaret, and Saint Lenart. He departed from this world in 1292.
Hincza of Przemąków was Royal Treasurer in the year 1399. Paprocki includes Indykof Jurków here, who pledged his support to King Jagiełło in 1441.
Piotr, Bishop of Płock, was elected to that see in 1232, largely due to his great piety, for he undertook more than one pilgrimage to Rome on  foot; in conversation he was discreet and kind, and in manners, dignified. Attending the sejm at Sieradz, he obtained great freedom for his church. He occupied the see for six years, giving many clear examples of his great virtue. He died in 1238 and was buried in the cathedral church of Płock. (See Łubieński, from Długosz's Vitiae Episcoporum Plocensium [Lives of the Bishops of Płock]). There was another bishop of Płock with these same arms: Jan, who died in the year 1425. His father was Floryan from Kurdwanów, and his mother was Katarzyna. He was born with the coat of arms Serokomla, but I have already discussed this under the name Kurdwanowskis, to whom he belonged.
A third Bishop of Płock, named Tomasz, held that position in 1270, according to Paprocki and Okolski. Łubieński, however, says nothing about what house he belonged to, and Długosz refers him to under the Prus coat of arms, where I, too, will speak of him.
Attending the sejm in Horodło in 1413, Wołczko Kukwa chose these arms for himself and his house. (Łaski, Statut, page 127).
Copyright © 2003 Leonard J. Suligowski. Used by permission. This article originally appeared in Rodziny  (Winter 2003), and in White Eagle (Spring/Summer 2005), the journal of the Polish Nobility Association Foundation.
;