Herb Przegonia
Research Heraldry Herb Przegonia
Herbarz Polski translation
Przegonia herb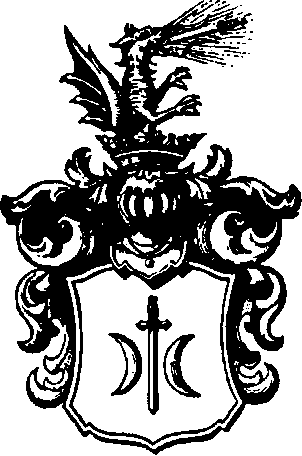 For each herb [clan shield, coat of arms] the blazon or verbal description of the arms is first given in authentic heraldic style, followed by a translation from the Polish description by Niesiecki. The right and left sides of a shield are identified from the standpoint of the bearer, i. e., the one holding the shield. His right would be your left and vice versa. The tinctures (colors) in heraldry are as follows: azure = blue, gules = red; sable = black; or = gold, argent = silver; vert = green. In heraldry all charges (pictures) on a shield are assumed to be facing dexter (right side) unless otherwise specified. In Polish heraldry all animals or birds are assumed to be in their natural coloring unless otherwise specified.
Arms: gules, between a crescent and increscent or, a sword in pale hilt and pommel to chief, the blade end debruised, all proper. For a crest, a demi-dragon rampant, vomiting flames, and the charge of the shield, facing sinister.
There are two crescent moons of gold, back to back, and between them a vertical sword, handle at the top and blade to the bottom, in a red field. Out of a helmeted crown is seen half a dragon, whose wings and forelegs are seen facing left (although others have it facing the other way). From its mouth flames can be seen, and within the flames the same sword and moons shown on the shield are visible. Paprocki described it thus in Gzniado cnoty [Nest of Virtue], p. 304, and in O herbach [On Clan Shields], page 289; and Okolski in volume 2, page 529, and in Klejnoty [Crests], p. 75.
This shield has a great similarity to that of Ostoja, because it was bestowed upon one of the Ostoja clan on the following occasion. While heading with the army to Moravia, the Polish commander sent an experienced knight ahead with a few people as a scouting party; this knight was of the Ostoja clan. He came upon a group of Moravians who had crossed the Polish border, but then saw far off a large host of the enemy. He did not lose heart, however; he sent word to the commander as fast as possible for reinforcements, while he himself attacked the Moravians. He held them for a long time, although more than once they almost drove him back. When the reinforcements arrived, they attacked the foe with zeal, and defeated him.
For this valor, his ancestral arms of Ostoja were transformed by placing a whole sword between the moons, and a dragon on the helmet such as was described above, because he had defeated the Moravians with such anger and ferocity. The new arms were called Przegonia because the enemy tried to drive him back several times, but he did not move from the spot. (Translator's note: in Polish "to drive back" is przegonic, imperfective form przeganiac; this name may be interpreted as meaning "They try to drive him back again and again (but in the end cannot do so)."
Okolski attributes the origin of this clan shield to the reign of King Boleslaw Smialy [1058-1079]. Due to the similarity of the shields, however, some affiliated themselves with Przegonia, some with Ostoja. Paprocki read of Miroslaw Przegonia, castellan of Sandomierz, in various monastery grants dating from the year 1270, as well as of Piotr, count Przegonia.
Bearers of These Arms
| | |
| --- | --- |
| Bratkowski | Kryski |
| Dulski | Lisowski |
| Dzwonkowski | Niewiescinski |
| Glodowski | Wietrzynski |
| Goluski | Zakobielski |
| Hryniewiecki | Zolczycki |
| Kowalkowski | Zwiartowski |
Copyright © 2001 Leonard J. Suligowski. Used by permission. This article originally appeared in Rodziny  (Fall 2001), the journal of the Polish Genealogical Society of America.
;