Herb Slepowron
Research Heraldry Herb Slepowron
Herbarz Polski translation
Slepowron herb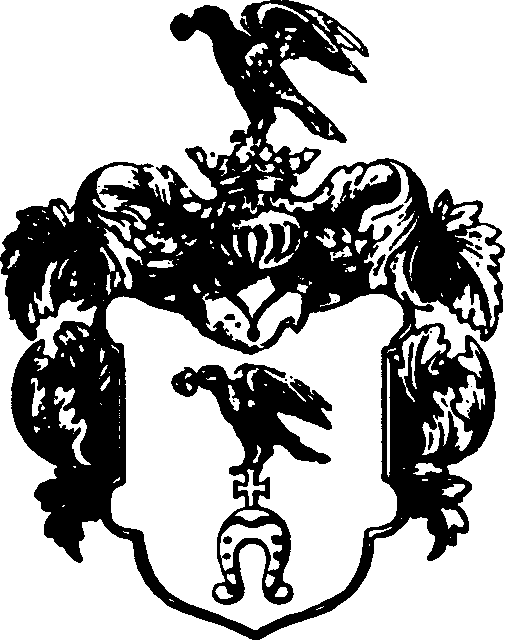 For each herb [clan shield, coat of arms] the blazon or verbal description of the arms is first given in authentic heraldic style, followed by a translation from the Polish description by Niesiecki. The right and left sides of a shield are identified from the standpoint of the bearer, i. e., the one holding the shield. His right would be your left and vice versa. The tinctures (colors) in heraldry are as follows: azure = blue, gules = red; sable = black; or = gold, argent = silver; vert = green. In heraldry all charges (pictures) on a shield are assumed to be facing dexter (right side) unless otherwise specified. In Polish heraldry all animals or birds are assumed to be in their natural coloring unless otherwise specified.
Arms: Azure, a horseshoe argent, heels to base, surmounted of a cross pattee of the last. Atop the cross a raven, wings expanded and inverted all proper, holding in its beak a ring or. Mantled of its liveries, and out of a ducal coronet a raven holding a ring in its beak, as in the arms.
A horseshoe stands erect with its heels at the bottom and on its shoulders is a cross. Atop the cross is a black raven with its wings somewhat extended for flight and facing to the right of the shield. In its beak it holds a gold ring. The shield is blue and the horseshoe silver. On a crowned helmet stands a similar raven as in the shield. This is the description given by Paprocki (Gniazdo, p. 1039, and 0 herbach, p. 312), and the work of Okolski (vol. 3, p. 121), and Bielski (p. 172). These authors agree that this clan shield was acquired as follows: when one of the family of Korwin had the good fortune to marry a daughter, an only child, of the Pobog clan, he redesigned the arms by adding to the horseshoe his ancestral raven with a ring. They also understand that this Korwin came to Poland from Hungary, seeking knightly glory. In Hungary the family of Korwin had proliferated, descending from one of the Roman Corvini.
I do not in the least deny that at one time there was in Rome a distinguished man named Valerius Corvinus, a military tribune, who got the name "Corvinus" in the following manner. The Roman commander Camillus had moved with his army against the French, and before the battle began, a French warrior of great size and strength came forward and challenged anyone in the Roman cavalry to single combat, whereupon Valerius stepped forward.  Just as he was about to engage the Frenchman, a raven flew down from nowhere, perched upon Valerius's helmet, and began to attack his foe with its wings and beak and talons so fiercely that the French warrior could not see him well. With this reinforcement the Roman beat him easily, and from that time Valerius was called Corvinus (from corvus, "raven"). Valerius was chosen six times to the Roman consulate. He lived a hundred years, always hale and hearty even in old age (Livy, vol. 7).
If however any of his descendants carried on the name, I have never read of it anywhere. It is true that Janos Hunyadi and his son Matthias I Corvinus, King of Hungary, as well as Janos, illegitimate offspring of the latter, called themselves "Corvinus" and had their coins minted displaying a raven with a ring. However, as we know from a grant of privilege of Prince Konrad of Mazovia at Warsaw in 1224, I am sure that the family of Korwins are more ancient in Poland than Hunyadi and his son Matthias, as the latter did not flourish until 1400. In addition the Silesian Annals state that when a raven carried off the ring King Matthias had removed from his finger, Matthias chased the bird down and slew him, retrieving the ring, and in commemoration of this event he took the raven as a symbol for his signet sign. From this family Wawrzeta Ślepowronczyk, a brave and fortunate commander, served the aforesaid Konrad.  Chryzolm was castellan of Czersk in 1320.
Families Using these Arms
Bagienski, Bronicki, Brotkowski, Bujno, Ciecierski, Drozenski, Frackiewicz, Gasiorowski, Gawkowski, Glinski, Goczanowski,  Golimunt, Gorski, Gosiewski, Grochowarski, Grodecki, Gutowski, Harbowski, Idzikowski, Jaruzelski, Jastrzębski, Josiewski, Jurzyc, Juskiewicz, Kamienski, Komecki, Kosakowski, Kownocki, Krasinski, Krasowski, Krokowski, Krukowski, Kuczywski, Kudelski, Kulesza, Kurp, Laniecki, Lasciszewski, Lisowski, Lowkianski, Lupinski, Malinowski, Materna, Mikucki, Milewski, Milkowski, Miroszewski, Mlodziejowski, Mnichowski, Nasierowski, Nowosielski, Olszewski, Ostrowski, Pieniecki, Piotrowski, Pisarzewski, Pniewski, Pomianowski, Poplawski, Przestrzeksju, Puchalski, Pulawski, Raczynski, Ramanski, Rembowski, Roman, Romanski, Romocki, Rozyniec, Rzaczynski, Sarnicki, Sawicki, Sczucki, Slepowronski, Siromski, Sobolewski, Sokolewski, Spadowski, Starzynski, Suchodolski, Swiderski, S[z]ymborski, Syromski, Szeplewski, Szymanowski, Topczewski, Truskolaski, Trzcinski, Wawrzecki, Waź, Wierzbicki, Wilkowski, Wroblewski, Wyrzykowski, Zawadzki, Zembocki, Zmijowski, Źuk
[Added note to Niesiecki's text by the 19th-century editor, J. N. Bobrowicz.]
Dunczewski, Kuropatnicki, Malachowski and Wieladek also ascribe these families to arms Slepowron: Adziewicz, Bagnicki,  Buchowiecki, Drodzieński, Fijalkowski, Lutoslawski, Przyluski, Slawomier, Snicinski.
[Niesiecki's text resumes.]
Not all listed here, however, use these arms in the same form. The Jurzyces and Kamienskis place a star under the horseshoe. Olszewski has, instead of a star, a second cross, like the one in the middle, but placed on top of the horseshoe. The Suchodolskis do not have a cross over the horseshoe, but only in its middle, and the raven stands on the horseshoe itself, while on the helmet are, instead a raven, three ostrich feathers. The Wroblewskis do not show the raven on a horseshoe, but rather on a bow strung with an arrow pointed upward, and three ostrich feathers on the helmet.
Copyright © 1995 Leonard J. Suligowski. Used by permission. This article originally appeared in Rodziny  (May 1995), the journal of the Polish Genealogical Society of America.
;