Herb Starykon
Research Heraldry Herb Starykon
Herbarz Polski translation
Starykon herb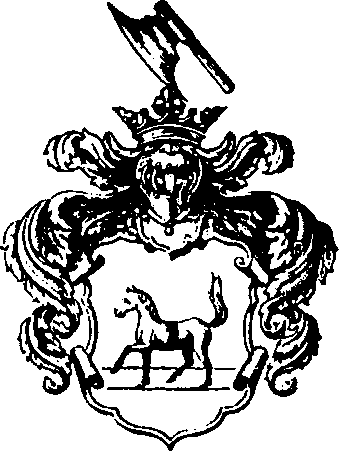 For each herb [clan shield, coat of arms] the blazon or verbal description of the arms is first given in authentic heraldic style, followed by a translation from the Polish description by Niesiecki. The right and left sides of a shield are identified from the standpoint of the bearer, i. e., the one holding the shield. His right would be your left and vice versa. The tinctures (colors) in heraldry are as follows: azure = blue, gules = red; sable = black; or = gold, argent = silver; vert = green. In heraldry all charges (pictures) on a shield are assumed to be facing dexter (right side) unless otherwise specified. In Polish heraldry all animals or birds are assumed to be in their natural coloring unless otherwise specified.
Arms: Gules, a horse passant argent girthed with a band sable, hooved or. For a crest: Out of a crest coronet, a battle-ax in bend argent. Manteling, Gules, doubled Argent.
There is a silver horse with gold hooves in a red field, with a wide black band about its girth; his tail is turned upright, and his left foreleg and right hind leg are raised a little above the ground, as if walking. On the crowned helmet the lower end of a battle-ax is set into the crown as if plunged into it. This is how the shield was described by the authors Bielski, p. 249; Paprocki in his work O herbach [Of clan shields], p. 52; and Okolski (Volume 3, p. 69).
These authors all agree with the historian Długosz on the origins of this shield. There were three brothers named Sedziwój, Nawój, and Zegota, of the clan Topór. Zegota had spent a considerable amount of time in foreign lands and with no small profit. Upon returning to his homeland he found that his brothers had divided the family inheritance between themselves, and had begun styling themselves hrabiowie z Sieciechowic (the Counts of Sieciechowice). When he greeted them, the brothers did not know him; when he brought up their ties of blood, name, and brotherhood, they did not want him as their brother. As for their father's fortune, they wouldn't even talk about that.
Unacknowledged and wholly rejected by his brothers, he turned to the King of Poland, submitting clear proof of his birth. So that he would no longer have to share the same arms with those who had rejected him, he received from the king a shield modified from that of Topór. This shield had the white horse he rode during his journeys to those foreign lands, and the battle-ax (topór) from the original arms was raised to the crest for his new shield, to show that he was born in the house of the Topórs. This is confirmed by a letter of King Kazimierz the Great dated 1366, cited in Paprocki's O herbach, p. 55, where it states
Quad omnes Bipenni et antiqui Equi, essent et processissent de uno avo, et de una progenie, et quod haberent ab antiquo unum j us omnes. ("That all Topórs and Starykons are and have descended from one ancestor and from one tribe, and that since ancient times they have all had one law.") [Latin Bipenni means literally "double-bladed axes," i.e., Polish topór, and Latin antiqui Equi means "old horses" = Polish Starykon].
The clan is called Starykon much as Topór is called Starza by its clan members; Zegota, the count of Sieciechowice, is called Zaprzaniec ("renegade, turncoat"), that is, one repudiated by his brothers. As to when this change actually took place, no one has written on this. Suffice it to say that it had happened by 1080, because Paprocki mentions Zegota Zaprzaniec from grants to monasteries. Okolski (Volume 3, p. 78) says that in Silesia the Emberks use the arms of Starykon, but in a different form; he was mistaken, however, because he changed a vixen into a horse. Paprocki writes explicitly in his work Stromata of this clan shield, where he says that the vixen should not be a horse, and I spoke of this in regard to Paprocki in Volume IV, p. 7. Petrasancta in chapter 54 of de tesser. Gentilit. says that in Silesia the Zybulkas use the seal of Starykon, but I do not know whether he meant the Cybulkas. Kromer says of one of the Cybulkas that he was a legate from Witold (i. e., the Lithuanian prince Vytautas), but it seems to me he belonged to the clan Ostrzew.
Bearers of These Arms
| | |
| --- | --- |
| Bochnar | Pisarzewski |
| Bystrzanowski | Polanowski |
| Czartoryski | Siemuszewski |
| Grodecki | Wieloglowski |
| Maj | Wielopolski |
| Nahojewski | Wroniecki |
| Nawojewski | Zarski |
Copyright © 2001 Leonard J. Suligowski. Used by permission. This article originally appeared in Rodziny  (Spring 2001), the journal of the Polish Genealogical Society of America.
;