Herb Sulima
Research Heraldry Herb Sulima
Herbarz Polski translation
Sulima herb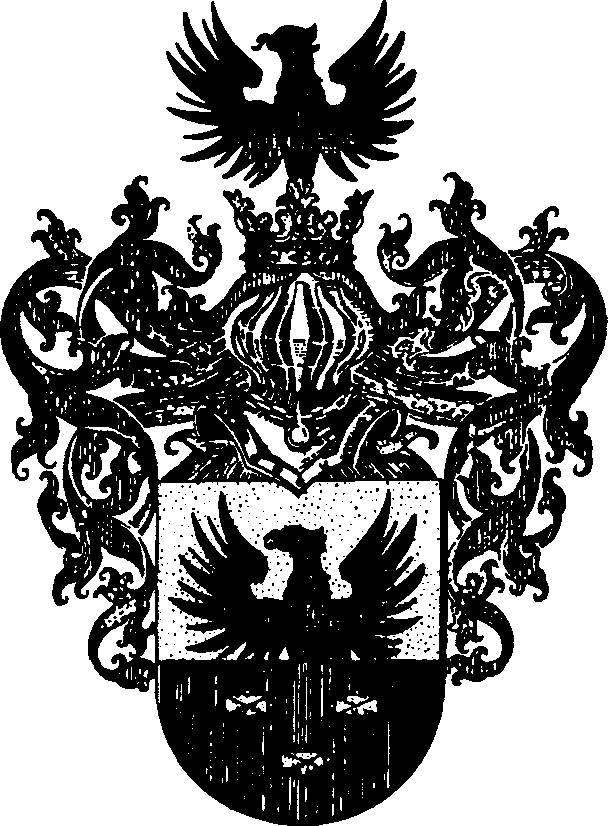 For each herb [clan shield, coat of arms] the blazon or verbal description of the arms is first given in authentic heraldic style, followed by a translation from the Polish description by Niesiecki. The right and left sides of a shield are identified from the standpoint of the bearer, i. e., the one holding the shield. His right would be your left and vice versa. The tinctures (colors) in heraldry are as follows: azure = blue, gules = red; sable = black; or = gold, argent = silver; vert = green. In heraldry all charges (pictures) on a shield are assumed to be facing dexter (right side) unless otherwise specified. In Polish heraldry all animals or birds are assumed to be in their natural coloring unless otherwise specified.
Arms: Per fess or and gules, in chief a demi eagle displayed naisant sable, in base three diamonds argent, cross couped shaped.  For a crest out of a ducal coronet a demi eagle as in the arms.
The coat of arms for this shield is divided in half horizontally.  In the upper half is half an eagle, black in color in a gold field with its wings outspread, and its face is towards the right side. On the bottom are three stones in a red field. On the crowned helmet is half a black eagle, similar to the one on the shield. This is how it was described by Paprocki in his O herbach, p. 459; Okolski in volume 3, p. 169; Bielski on page 329.
All agree that this coat of arms was brought to Poland from Germany, where it was called Slomff according to the Manuscript on Prussian Families, and from there grew the famed family of the Counts of Solms and Rulers of Braunfels, Mintzenberg and Sonnenwald, of whom I will cite several examples here:
Szymon was pastor and chancellor of Cologne 1393. Bernard, comes in Solms [count of Solms], died in 1459.  Wilhelmus, Count of Solms in the days of Henry Aucupis, was alive in 935.  Philippus, Count of Solms, 1179. Henricus 1220. Joannes, Canonicus Moguntinus et Coloniensis [Mainz and Cologne canon], 1457.  They describe the arms thus: a shield divided into four parts, on the upper right side two bars, on the upper left side a half eagle, under it, three roses; on the lower left the same eagle, on the lower right a repeat of the two bars.  On the helmet within the crown is an eagle within the crown, without legs or tail, above the head of which are two crossed axes. Thus it appears in the Manuscript of the Prussian Families.
Ancestors of this House
After the death of Prince Boleslaw Swidnicki, Jan Romka, Bishop of Wroclaw, was appointed guardian of his two minor sons, Henry V, Prince of Wroclaw, and the Prince of Legnica, "on account of his diligence and honesty of character." The historian Długosz says that he was, however, very lavish, and he wasted a great deal of the children's inheritance, taking from it sixty thousand grzywna, for which he later had accounting problems with the princes and with the previous lords. He occupied this see [Wroclaw] from 1292 to 1302, as the same Długosz attests.
Some members of this house signed their names as z Pleszowa [from Pleszów].   One of them was Ibram z Pleszowa, in 1398 castellan of Zawichost, where he placed his signature on a letter given by King Jagiello to the city of Lublin.  There was also Stanislaw z Pleszowa Sulimczyk, who among others hung his banners in Buda in 1443; for more on this see Długosz's book 12, p. 779.
Zawisza Czarny [Trans. Note"Zawisza the Black, " so-called because of his black armor], a man of great qualities, traveled in the legation from King Wladyslaw Jagiello to Emperor Sigismund in regard to the king's marriage to Agacya, widow of Vaclav, King of Bohemia, when the Taborites defeated Sigismund so badly that he had to flee from them [Translator's Note-I believe this refers to the people of Tabor in Bohemia, radical adherents of Jan Huss, founder of the Hussite Protestant sect]; Zawisza was taken prisoner (Bielski p. 32) and was freed in 1424.  He entertained liberally on Friday the great monarchs assembled in Kraków for Queen Jadwiga's coronation and was lavish in his gift-giving (Bielski, p. 325).
Later [Translator's Note-actually in 1428] Zawisza was leading forces of the army of that same Emperor Sigismund-but by this time he was the starosta of Spisz-when Sigismund, struck by fear of the Turks' swords, crossed with the larger part of his army to the other side of the Danube; due to the scarcity of ferries and boats he left the second, smaller part to be massacred by the pagans.  Sigismund, regarding highly Zawisza's merits, sent a boat for him, ordering him to save himself.  But Zawisza, a man avid for knightly glory, regarding it as an unworthy deed to leave his post or abandon his cavalry, thanked Sigismund for his favor but chose to die heroically at his position rather than diminish his glory by fleeing from the foe.  Having mounted his horse and taken his lance in hand, with only two foot soldiers he went forth against the Turks and fought valiantly against them, but was surrounded by a large number and captured.   Then an argument arose between two Turks, as each of them made out that he was the one who captured Zawisza. One of them, envious of the good fortune his more powerful antagonist would have from the Turkish Emperor if he presented Zawisza before him, cut off his head: his head, however, was brought before the Emperor, and the inhabitants of Rascja buried his body.
Długosz wrote a long eulogy in his history, saying, among other things, "In all battles the most celebrated and bravest, rich in all virtues, imitated but equaled by none. In his speech there was sweetness, charm and affability so that with his charms he could win over not only the virtuous and noble but even barbarians.  For the skill of military discipline of the highest caliber fell to his lot, which he had acquired in various kingdoms either by art, ability, or skill."  Długosz's Epitaphs also includes a verse written for Zawisza by Adam Swinka, Kraków canon, for this Zawisza was married to Barbara, the niece of Piotr Wisz, Kraków bishop, and she grieved so for his loss that she came to die, leaving two sons by him, Marcin and Stanislaw z Roznowa, who died with King Wladyslaw at Varna.  That is what Długosz and Cromer say, but Leunclavius in Turkish Chronicles, p. 27, calls one of them Michal and writes that he fought valiantly in the battle of Varna in 1444.  "The King of Hungary fought on one side, on the other Michael known as the Black [i. e., "Czarny"], they attacked Murad's forces with such strength that they compelled the foe to flee."
"Barbara de Roznow, the granddaughter of the son of Zawisza Czarny, the most illustrious soldier in the Christian world, and the wife of Joannes of Tarnów, lived 70 years and died in 1517," says her gravestone in Tarnów; her husband Jan Tarnowski was at one time a famous captain of Poland.
Some family members of this clan took the name of Sulima from the arms, of whom several flourished in Podolia, where, according to Okolski, the last heir left her manor in Kamieniec Podolski under the name of "St. Michael's" to the Sisters of St. Dominik.  Anna married Chodorowski.  Other Sulimas settled in Sandomierz district, of whom Jerzy Sulima Czarny signed to the election of Wladyslaw IV. Długosz says in his History that after the death of Boryslaw, Archbishop of Gniezno, in 1306, as his successor to this office the pope appointed Janusz, Archdeacon of Gniezno, who at this time had been in Avignon with Boryslaw; and Długosz says that he was of the Sulima clan, although Damalewicz in Lives of the Gniezno Archbishops says nothing about him at all, inasmuch as in that year Jakób Swinka presided there at that See.
Stefan Sulima was the vassal at Dymir. The brothers Seweryn and Teodor were vassals, Seweryn at Kozary and Teodor at Julce and Bereski; they and their cousin Stefan, who was the vassal at Cybel, all had their prerogatives to the noble estate restored in 1659, as provided by a constitutional statute.
Bearers of These Arms
Bodywil, Borkowski, Bratoszewski, Cellary, Charbinowski, Chodowski, Dzierzanski, Farurej, Gajewski, Gamrat, Garbowski, Goslubski, Gotuntowicz, Gralewski, Grocholinski, Hamszej, Jacimirski, Kaminski, Kiernowski, Kilewski, de Konrade, Lyckzo, Milonski, Obidowski, Oporowski, Ozieblowski, Pegowski, Popiel, Przyborowski, Przluski, Ryczgorski, Sawicz, Sluzowski, Stanislawski, Strawinski, Stromski, Sulikowski, Sulima, Sulkowski, Swiechowski, Szalowski, Szawlowski, Szrzobski, Trzcinski, Ulanowski, Wlodek, Zablocki, Zabokrzycki, Zadarnowski, Zawisza
[Added note to Niesiecki's text by the 19th-century editor, J. N. Bobrowicz]: Kuropatnicki, Malachowski and others give the following families as also using these arms:
Bratkowski, Godwadowski, Pagowski, Samujlo, Ulanowski, Ziemiecki, Chabinowski, Kielecki
Copyright © 1996 Leonard J. Suligowski. Used by permission. This article originally appeared in Rodziny  (August 1996), the journal of the Polish Genealogical Society of America.
;