Kalinowka
Research Parish Index Kalinowka
Resources
Kalinówka Kościelna (woj. Podlaskie)
Historical Sketch
The parish was founded and the church built in 1511 by Mikołaj Radziwiłł, voivode of Wilno. Its funding was increased by King Zygmunt August. The church in Kalinówka was under the patronage of St. Anne. A new church was built, perhaps around the middle of the 16th century, and the old one was transported to Brzozowa, which was a branch of the Kalinówka church. On 17 August 1761 the church in Kalinówka burned down, along with the archive and rectory. It was rebuilt anew of larch wood, thanks to the efforts of Rev. Adam Świerzbiński, pastor in Kalinówka, canon of Inflanty. The construction undoubtedly lasted several years and was finished in 1776. This church was consecrated on 5 October 1777 by Brześć (of Łuck diocese) suffragan bishop Jan Szyjkowski. This church has survived to modern times and continues to serve the faithful.
At that same time, that is, around 1774, a new rectory was built as well as other pastoral buildings, including a storeroom that has survived to our day and was has been registered as a monument [or relic]. The rectory from that time, on the other hand, was taken apart after a new one was built of brick and stone, in the days of pastor Rev. Antoni Kruk, in the 1980s.
Translated by William F. Hoffman from the original Polish found at http://www.bialystok.opoka.org.pl/parafie.php?par=72
Note: Copies of records from 1808+ have been located in the Lithuanian State Archives.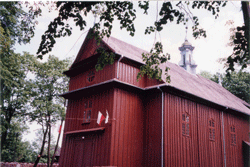 Records from 1808 - 1864 have been microfilmed.  This is based on "Informator : mikrofilmy akt metrykalnych parafii rzymskokatolickich Archidiakonatu Białostockiego z lat 1808 - 1864." published in 2001.
These first 3 items are single volumes containing different types of records:
Chrztow [Chrzty]: 1742-1764
Malzenstwa: 1739-1764
Chrztow [Chrzty]: 1764-1788
Malzenstwa: 1764-1787
Chrztow [Chrzty]: 1872
Malzenstwa: 1882
These are individual volumes containing a single type of record. Date spans are contained within a single volume:
Chrztow [Chrzty]: 1827-1834, 1834, 1835-1843, 1843-1850, 1850-1854, 1855-1859, 1859-1867, 1857-1870, 1867-1874,1874-1880,1880-1886, 1886-1896, 1896-1906, 1906-1911, 1911-1917, 1885-1917, 1917-1922,
1922-1923
Malzenstwa: 1797-1814, 1814-1827, 1827-1834, 1835-1842, 1842-1850, 1870-1884, 1876-1889, 1918-1926, 1927-1949, to present
Zmarlych [Zgony]: 1749-1798, 1797-1809, 1809-1824, 1824-1827, 1827-1834, 1835-1839, 1839-1843, 1843-1850, 1845-1852, 1853, 1849-1854, 1855-1869, 1869-1895, 1895-1907, 1908-1919, 1919-1932, 1933-1950, to present
Zapowiedzi (Banns): 1827-1882
Protokoly Przedslubne: 1816-1825, 1825-1831, 1831-1838, 1838-1843, 1846-1849, 1849-1855, 1856-1864, 1864-1877, 1877-1892, 1892-1908,
1908-1919, 1919-1925, 1925-1931, 1931-1938, 1938-1947, 1945, 1947-1950, to present
Data compiled in 1998 by Donald Szumowski
;